I know, I know. The second recipe in a row to feature the same ingredients. But, this is a sweet that is so British and so summery you will forgive me I am sure of it! I can tell you that from youngest to oldest in our house this was such a success that I will be making it many times over.
Even the chocoholic 4yo approved and he is one to turn his nose up to a crumble, vanilla sponge, pie, cheesecake or anything that doesn't resemble a bar of white, milk or dark chocolate. Mr. Scott however was in raptures with it which I take as a good sign. The two girls demolished it in nanoseconds before my very eyes!
I won't go on too much. Suffice to say it is a thin, buttery short pastry crust filled with floral elderflower pastry cream and finished off with strawberries dusted in icing sugar. You guessed it, another one of those late night ideas. But what triggered the idea was reading Kate's post and last month's entry to "One Ingredient" for a Raspberry Tart HERE.
There is nothing in my mind to beat a classic French Tarte au Framboises. So, I suppose this could be an English interpretation of what I love about French Patisserie.
I am entering this tart into THREE lovely challenges for this month and they are as follows…………
My fellow host and creator of the One Ingredient Challenge Nazima at Working London Mummy. The June ingredient is "Strawberry" found HERE.
Kate at What Kate Baked co-hosts the Tea Time Treats challenge with Karen at Lavender & Lovage. This month the challenge is "Summer Fruits" found HERE.
Linzi at Lancashire Food is hosting an "Elderflower" challenge which can be found HERE. Linzi calls elderflowers the "quintessential foraged summer ingredient". Too true 🙂
I am also entering into the "I Love Cake" linky at Mummy Mishaps. The theme is Strawberries.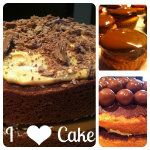 Strawberry Tart with Elderflower Pastry Cream
Ingredients :- Makes 1 tart
For the pastry :-
180g unsalted butter chopped into cubes

240g plain flour sifted

pinch of salt

splash of water

For the elderflower pastry cream -Recipe adapted from Stephanie Alexander's THE COOK'S COMPANION

8fl oz (240ml) milk

150g caster sugar

50g cornflour

6 egg yolks

8-10 tbsp elderflower cordial (I used my home -made cordial from Karen at Lavender & Lovage's recipe HERE but used 2 oranges, 1 lemon and half white half demerara sugar)
For the topping :-
1 punnet of strawberries sliced

Icing sugar
Method :-
For the pastry :-
Place the butter, salt and flour in a bowl and work the mixture with your fingersuntil it resembles breadcrumbs. You could also use a food processor for this.

Add enough water to bring the mixture into a ball of pastry. It will not take more than a few splashes to do this.

Work it gently into a ball as the less you handle the pastry the lighter it will be.

Wrap in cling film and keep it in the fridge for at least 30 minutes to rest.
For the elderflower pastry cream :-
Heat the milk in a pan until it is hot but not boiling.

Meanwhile, in a bowl whisk together the egg yolks, sugar and cornflour.

Pour the hot milk onto the egg yolk mixture then return it to the pan.

Stir the pastry cream until it begins to thicken over a medium heat.

When it begins to bubble you will need to beat it as it will begin to thicken quickly and you don't want it to catch on the bottom of the pan. (This took longer than I expected, about 10 minutes)

Remove from the heat and let it cool before you add in the elderflower cordial then cover with cling film until you are ready to use it.
To assemble :-
Roll out the pastry to line a tart tin and bake it blind until it is cooked trough, about 20 minutes at 160 degrees.

When it is completely cold pour in the pastry cream and spread it evenly over the pastry base.

Top with sliced strawberries and then dust liberally with icing sugar.
Notes :-
This tart is so delectable but incredibly delicate. To eat it at it's best, I would put it together on the same day you are serving it and if possible do not refrigerate it.

The flavours will be at their best if you do this and I am really particular about my pastry and think it always tastes far better when it hasn't seen the inside of a fridge so you can fully appreciate the buttery, short and melting texture.

I did keep mine in the fridge and it did was fine but probably would keep better if you made individual tartlets so that the pastry cream keeps it's shape.

I can't believe that Stephanie Alexander's book which I bought quite a while ago is now worth £95……….must treasure it!