Although this is a fairly simple recipe in terms of ingredients, it is a perfectly seasonal salad to enjoy during the summer months. Potatoes, mustard leaf, spring onions, mint, oregano and chives all came from either the garden or the allotment. Because of this the flavours seem to come alive. The taste of each ingredient is discernible individually but they come together to produce a very well tended plate of food.
Going on a journey and seeing the vegetables grow from a dot in your hand to food you can eat is so rewarding that it seems to burst with flavour. I did wonder whether sticking to the organic principles would lead to mass destruction of all crops due to pest attacks. But, this has not been the case. All we (me & Mr.Scott) have done is to protect everything with netting, cloches and fleeces.
What inspired me mostly to adhere with the organic way was going to see "Symphony of the Soil". I was kindly invited to a screening of this inspiring and educational film by Elisabeth Winkler. The film was written, directed and produced by Deborah Koons Garcia. It emphasises the importance we should be placing on "soil" and how we are treating it, or rather mistreating it in the pursuit of growing bigger and better crops with higher yields.
In a nutshell, it shows that large scale use of pesticides is leeching our soil of all it's natural goodness, essentially making it reliant on the sprays which ironically are weakening the soil structure. But, there is good news. Some of the large scale farmers are turning their backs on this principle and going back to traditional methods of farming. Using companion planting as well as rotating crops and letting them lie fallow for a while to recover their nutrients.
I can see the benefits first hand of how successful this method can be, even though it is on a small scale, the ideas of allowing the soil to work for itself without too much human intervention can produce fruits and vegetables that have superb flavour with no hint of a pesticide residue. In other words, it's simply so good for you!
I know this is a topic that may not be of huge interest to everyone but it's something I feel strongly about and Deborah's film sends out such a positive message and draws you in to her ideas with beautiful photography and a fabulous collection of interviewees.
So, in a very small way, here is my contribution to being at one with the soil and in awe of what it can produce….
It is also my own entry to Simple and in Season which I am hosting this month for Ren Behan at Fabulicious Food. Ren's Simple and in Season page can be found HERE.
I am also entering this salad into Karen at Lavender & Lovage's HERBS ON A SATURDAY. A challenge that I haven't entered before but shall be doing so now that my herbs are flourishing in the garden!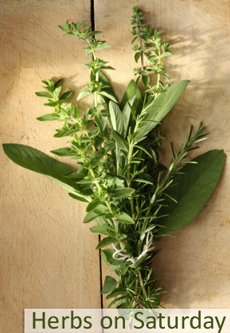 Seasonal Salad with a Mint Oregano & Lime Dressing
Ingredients :- Serves 2 as a side salad
A large handful of new potatoes

A large handful of your favourite salad leaves

2 large spring onions

Handful of mint chopped

A few sprigs of oregano chopped

Handful of chives chopped

Juice of half a lime

1 dried bird's eye chilli (optional)

Olive oil
Method :-
For the salad :-
Boil the new potatoes until they are soft, 15 minutes approx depending on their size. Drain and leave to cool a little.

Finely slice the spring onions.

If using your own salad, pick then wash and dry in a salad spinner. Alternately, use your salad leaf of choice.

When the potatoes are cool enough to handle chop them up and place in a salad bowl then add the spring onions and chives.
For the dressing :-
Roughly chop the mint and oregano then place it in a pestle and mortar with a pinch of salt and the dried red chilli (optional).

Crush to a paste and add the olive oil gradually to create the dressing. About 3 to 4 tablespoons.

Add in the lime juice and check for seasoning.
Assembling the salad :-
Pour the dressing over the slightly warm potatoes and spring onions. Stir to combine.

Put the potatoes in their serving bowl or plate and add the leaves now so that they retain their flavour and shape.
Notes :-
I ate this salad for lunch with some bread but if I was having it for dinner, I would serve it with some poached salmon or grilled chicken.

Mustard leaf is amazing. It tastes like eating a leaf of wasabi or horseradish . It is vibrant and hot but not spicy so I would recommend it as my salad of choice for this summer. A real delight.